We'd like to introduce X-Cart users to a fantastic new template, called Ability, that is so loaded with features that you really need to see it in action to fully understand why it is so advanced compared to other 'skins' available on the market. This template comes with literally 100's of color and background combinations and several dynamically generated and animated areas.
View Demo
View this demo to get the full view of the powerful features and presentation: Click Here For Demo
Screenshot
Click the thumbnail below for a detailed screenshot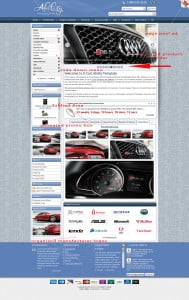 Additional Specs and Information
Ability is an advanced, all-purpose X-Cart v4.4.x template solution, with a rich amount of layout possibilities and features built-in.
The idea behind Ability is to give you all the design flexibility and features you need, in one template, whilst keeping your costs down.
It can be used as the foundation to any web store. You'll be surprised at what you can achieve with this template alone.
Theme Options

Clean layout design with 20 ready made easily customisable colour themes, just 16 lines of CSS per theme
Multiple themes enables you to easily change the look and feel whenever you like, eg. seasonal
True unlimited colour themes with in-built theme designer – colour pickers for theme elements, choice of background tile or image
Over 800 background tiles and images included
CSS code generator for easy colour theme generation
Layouts based on a fluid/flexible version of the popular and easy to use 960 grid system
Option to set the fixed (pixels) and fluid (percentage) widths
Ability to set the following to fixed or fluid… overall store width / header / header content / body content / checkout / footer / footer content
Layout can be displayed as 3 columns, 2 columns left / right or 1 column (product layout can also have independant column style)
Homepage can be set to display as full width (1 column) – maximises the effects of your promotions

Header Options

Choice of header style, or easily create your own custom header
Choice of 4 logo sizes and 4 search box sizes
Customer account dropdown menu box

Category Menu Options

Horizontal menus included…

5 level animated dropdown / flyout menu
3 level mega dropdown menu, with full control over layout in category admin and option to display parent icons/descriptions
1 level tabbed category menu
Tabbed speedbar menu
Tabbed custom menu

Vertical menus included…

5 level animated flyout menu
3 level tree menu, with persistence and choice of theme
2 level sliding menu, with persistence
1 Level basic menu style
Or use standard X-Cart menus

Additional categories page displaying all categories up to 3 levels

Homepage Options

Promotional Displays Included…

Responsive image slider
3D flash image slider
Featured image box
Horizontal image roundabout
Horizontal image accordion
Responsive static image or YouTube video (can be set in Ability settings and set to autoplay)

BBC style animated news ticker, dynamically lists the last x news headlines
Animated countdown to an event, eg. end of a sale, launch of new product etc.
Additional new and random products display (amounts configurable in Ability settings)
Featured products, bestsellers, new and random products can be displayed as animated carousels
… Or can be displayed in rows or grids, with ability to dynamically switch between row/grid
Featured products, bestsellers, new and random products can be grouped into a set of compact tabs
Manufacturers can be displayed as a carousel, or logos/links in columns (amount configurable in Ability settings)

Products Display Options

Products display options

Grid and row switchers, with persistence
Smart columns, which adapt to the store width (for use with a fluid layout)
Masonry columns, which adapt to the store width in an animated fashion and are centered (for use with a fluid layout)
Basic tabular display
Or use default X-Cart products display

Upselling and recommended (random) products use the grid and row switchers display for SEO purposes
Default grid/row display and number of columns can be set from Ability settings

Product Page Layout

Product layout can be displayed independantly as 3 columns, 2 columns left / right or 1 column
2 types of custom tabbed product information display, either tabbed above or below
Vertical accordion product information display
Tabs and accordions have persistence feature
Or use standard X-Cart tabs below

Footer Options

Choice of footer style, or easily create your own custom footer
Display rotating testimonials, news box, latest Tweets etc.
Display Footer payment icons, large or small

Custom Fonts

Replaces H1/H2/H3 fonts which are loaded via the Google Fonts API
397 fonts to choose from as of Jan 7th 2012
Includes local font previewer, or use the Google font previewer

Addons

Dynamic AJAX search box – lists products after 3 characters typed
BBC style animated news ticker, dynamically lists the last 5 news headlines – enable / disable
Animated countdown to an event, eg. end of a sale, launch of new product etc. – enable / disable and configure date in Ability settings
Advanced animated breadcrumbs, collapses and becomes compact if you have many subcategories
Lazy loader for product images – delays the loading of images until browser focuses on them
Page peel effect – displays animated promotional message in top right corner
Google map display for contact us page – displays map and streetview
FAQs for contact us page in accordion style list
Advanced lightbox to replace ColorBox, with 10 different themes and ability to display videos, inline content etc.
Custom floating social bookmarking links for product page – alternative to Socialize module
Google translator menu box
Image gallery with categories, automatic thumbnail generation and lightbox
Display first detailed image as sticky tooltip on product thumbnails hover

Advanced Minicart

AJAX minicart that can be displayed in header or menu box
Instantly displays cart contents on adding to cart, with option to change quantities
Products can be grouped by category and minicart height is configurable
In addition, when an empty cart is viewed, bestsellers, new and random products are displayed to the customer

RSS Feeds

Generates feeds for latest news and latest products (generate manually, or set up cron jobs)
Number of items per feed and additional text, thumbnail size etc. configurable from Ability settings

Miscellaneous

Choice of menu and dialog box style – rounded, square or basic borderless
Basic promotional menu boxes can be enabled to display any extra info, such as payment seals etc.
Choice of manufacturer menu box – dropdown version includes its own search facility if more than 30 manufacturers
Configure bestsellers and recently viewed image sizes from the Ability settings
Animated 'back to top' button that appears in bottom right corner
Choice of 'easing' effect, autoplay and mouse wheel feature for carousels
Option to redirect old IE browsers to a browser upgrade page

Just For Fun
Design Features

Well organised template structure
Well commented CSS code
Wide choice of homepage promotion options
Flexible width carousels
Scrollable content boxes
Easy to use tooltips
Customised view cart page
And much more…
Requirements
X-Cart v4.4.4 + highly recommended.
Good working knowledge of the X-Cart system.
Basic-intermediate skills in HTML, CSS and Smarty.
View Demo & Purchase Info
View this demo to get the full view of the powerful features and presentation: Click Here For Demo