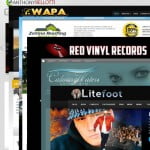 WordPress provides a fantastic platform for allowing clients to maintain their website's content. SimcoMedia provides custom WordPress installations and designs that are tailored to your business needs. With WordPress's powerful core system and the availability of thousands of add-ons and plugins there is no limit to how it can be adapted to your specific needs.
WordPress Custom Designs
Wordpress uses a 'theme' system that allows for flexible designs and layouts. Since most themes are merely a layout with the built in 'hooks' utilized by WordPress's template functionality, the chosen theme needs to be customized with logos, color schemes, backgrounds, featured images, and more. SimcoMedia can create custom graphics, product images and more that are designed to integrate with your content and design. This can also include images for featured sliders, galleries and animations.
WordPress Plugins
Plugins are what provides WordPress with additional power and functionality. SimcoMedia has extensive knowledge of available plugins that add powerful functionality to your WordPress site. This includes form management, image galleries, media management and social networking. Most plugins are available for free with the exception of a few premium plugins that are optional.
Custom WordPress Plugins
SimcoMedia can create custom plugins or modify existing plugins to add the specific functionality you need. Plugin customization involves PHP, Javascript, CSS and often times MySQL programming. Plugins are designed to extend the power of WordPress without altering the actual WordPress core coding.
Example Projects
Below are examples of sites we have created using WordPress. These sites range from personal to business and each project had its own requirements as to what functionality was needed in order to operate their site efficiently.